Climate Cafe' R.S.V.P & Volunteer Form
Title Mind, Body, Spirit Pop-Up
Date Saturday, June 3, 2023
Time: Noon – 2 pm
Where St Luke Lutheran Church, 6835 SW 4th Avenue, Portland, OR 97219 Google Maps
 – Cost is free, and donations are gladly accepted.
Climate Cafe's June Pop-Up Community Feast in SW Portland features another tasty, locally-sourced and plant based spread of seasonal delicacies, including strawberries! And, enjoy our first ever Climate Hope Improv Experience, entitled Express your Climate Feelings with Somatics, created by our Climate Café Players. Audience participation is welcome, and encouraged.
Bring your mind, body, and spirit to taste and see what climate hope can look like.
Climate Cafe meals are offered freely to all as we invest in a pay it forward gift economy. Your happy support feeds the movement!
We are all volunteers learning together how to save the planet one bite at a time. RVSP here.
Making New Connections 
Connect with local communities and organizations working to create lasting and positive change for the planet and people.
All are welcome, regardless of spiritual beliefs or financial means. We are creating a gift economy around delicious food that supports regenerative farming and bodily health. Donations are appreciated but not required. We welcome volunteers of all ages and backgrounds. To volunteer please fill out the form below.
Climate Cafe' Event R.S.V.P & Volunteer Form
Climate Café Event Reservation
Your message will be sent directly to the Climate Café Team and you will receive a confirmation that your name has been added to event. 
Seating is limited to a first-come, first serve basis, so it's best to reserve early to secure your seat.
Do you know a great place to have a Climate Café' event? Are you willing to lead the charge and host an event? We would love to hear your inspiration. Share with us your ideas and we will be back in touch. 
Do you know local, organic farms who love to help their community? Please share a connection so we can help feed more people and reduce food insecurity. 
The Power of Community
A new way to give, a new way to eat, and a new way to live – This is the Climate Café.
What if, anybody, in any budget, could afford the highest quality food available? What if, together, we can reverse the damage caused by unhealthy consumption that erodes our vitality and causes illness and death? What if, you can give and receive perfectly nutritious, and tasty food, based on what you can afford, and the benefits are exactly the same as those who can afford more or less? You would have little to lose, but everything to gain. Climate Café is a model of both giving and receiving based on whatever you can afford. Have you heard the term gift economy?
At Christ the Healer, we hear from many of our younger members who practice purposeful living and giving, and Climate Café' is widely embraced for this reason. If you want to help others, desire a higher quality of life, seek deeper and more meaningful connections, and understand the value of healthful eating, Climate Café was made for you. We have farmers and chefs at the ready, and we are gearing up.
Growing together, in the unified intention, to create a low-carbon, sustainably sourced and produced, plant-based meals in a pay-as-you-go model.
When I first embarked on my healing journey, I was in so much physical pain and my vitality was low from a SAD (standard American) diet. After I began moving to a more plant-based diet, I asked Thomas Chavez, "How will I know if I'm feeling better? How can I tell if I'm making improvement?" He said, "It's not one thing you do, but everything you do. Compounded, your vitality will naturally rise." Through years of guidance with natural foods, a plant-based diet, and discipline, combined with a supportive community, my vitality continues to grow. I have also witnessed Gabrielle and Thomas embark on their own healing journey with an all plant-based diet and I'm impressed with their results. So many people feel awful, and lack of vitality and sickness is often related to a poor quality diet. In addition, low-income households typically can only afford low-quality foods on their tiny budgets, so how can they experience true vitality? Climate Café seeks to help heal our health crisis and and food injustice. I'm in!  – Julie Gorham
A philosophy and practice
According to CtH UCC Co-Founder, Gabrielle Chavez, Climate Café creates an opportunity for CtH to live out the ideal of the early church, as demonstrated in Acts 4:32: All the believers were one in heart and mind. No one claimed that any of their possessions was their own, but they shared everything they had. 33 With great power the apostles continued to testify to the resurrection of the Lord Jesus. And God's grace was so powerfully at work in them all 34 that there were no needy persons among them. For from time to time those who owned land or houses sold them, brought the money from the sales 35 and put it at the apostles' feet, and it was distributed to anyone who had need. 
Are you ready to get involved and make a difference? We welcome you to the conversation. Learn more about our vision here. Check out more ways you can help, below.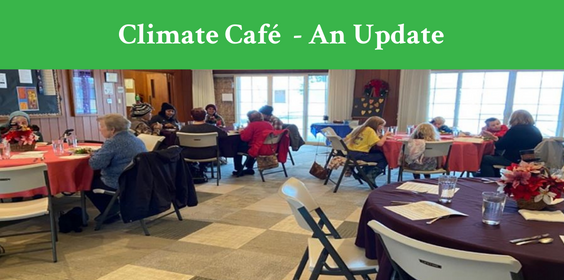 Written by Bonnie Fackre-Cochise, edited by Julie Gorham  The pop-up at the Parkrose UCC was another successful event with increasingly steady volunteers emerging. A snowstorm on December 4th resulted in a slightly lower than average turnout, with 31 adults and four...
Climate Café Update June 3rd, 2022 Megan Hanson and Bonnie Fackre "What would the world be like if we truly "loved all of Creation as ourselves"? Chef Lakita Butler asks us to ponder. How does living sustainably look, feel, smell and more to the point, what does it...
Are you interested in volunteering? 
Do you have a desire to be involved in this exciting new endeavor? What gifts are you inspired to share? Join us for our ongoing informational meetings and opportunities to participate in production, education and training. Please fill out this form to be added to our contact list.
The Climate Café needs investors too. Can you help?
We have submitted an initial grant for funds to assist in the necessary expenses of a startup, including licensing, legal, operations, marketing and more. Funds are also needed to provide a commercial kitchen conversion and upgrade for one possible church building partner. Do you have executive leadership skills and love to present to investors? Do you know investors who want to make a difference and need a tax deductible contribution? We would love to hear from you.