EVENT: Wesak Gathering
Purpose: Collective Meditation, Volunteer Work Party, and Potluck
Date: Friday, May 5th, 2023
Time: TBD
Where: 18798 OR-211, Molalla, OR 97038
 – This is a free event 
CtH Wesak Facilitators: Thomas and Gabrielle Chavez | Camp Adams Host & Work Party Facilitator: Alaquinte Moonfeather
Activity: Christ the Healer members gather each year to celebrate the spiritual festival of Wesak on the full moon of May to participate in the collective global meditation to bless and uplift all our relations.
This year's celebration will be held at Camp Adams in Molalla, OR, where CTH member Alaquinte Moonfeather has begun work as the Facilities Manager. He will be hosting volunteers for an afternoon work party, followed by a potluck, meditation and full moon water ceremony at the Milk Creek Site near the entrance.
This will be a relaxed time to do some service and connect with the beautiful trees, trails, and each other, as well as the powerful energies of Wesak. Rain or shine–we'll have the use of a cabin. Please bring a plant based dish to share.
Please sign up below to let us know you are coming.
Let us know if you are joining us!
Wesak Participation at Camp Adams
Since 1997, CtH UCC has engaged in an annual Wesak ceremony. Wesak (Vesak) is a holiday traditionally observed mostly by Buddhists. CtH offers an annual meditation too. This an esoteric Christian tradition that invites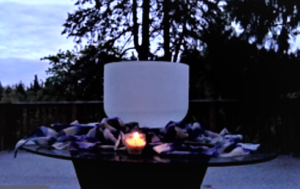 ​ Christ and Buddha to work together to bless the world to make spiritual progress one step further each year. 
The mythic story involves a gathering in the high Himalayas for the bringing down of the new energies to serve the world, into a bowl of water. We follow that tradition providing our own bowl and allow that water to be charged. Join us!